San Bernardino Sun
Mitchell's body builder beneath business suit April 2007
Patricia Thio, Correspondent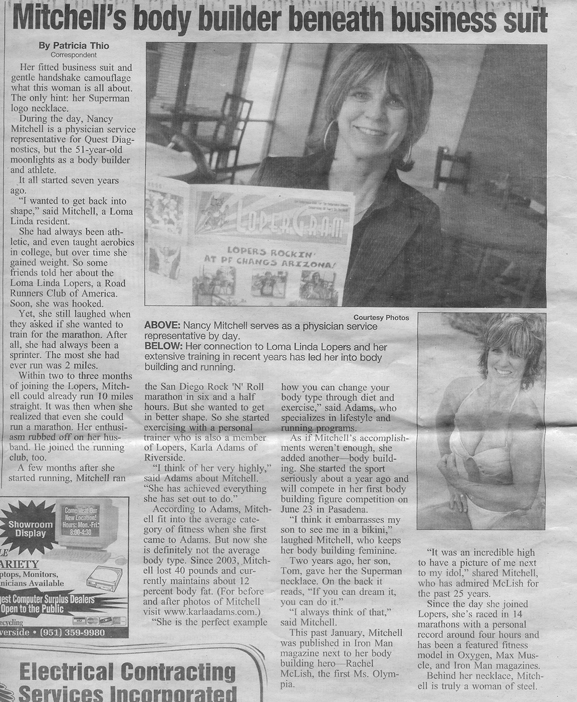 Her fitted business suit and gentle handshake camouflage what this woman is all about. The only hint: her Superman logo necklace. During the day, Nancy Mitchell is a physician service representative for Quest Diagnostics, but the 51-year-old moonlights as a body builder and athlete.
It all started seven years ago.
"I wanted to get back into shape," said Mitchell, a Loma Linda resident.
She had always been athletic, and even taught aerobics in college, but over time she gained weight. So some friends told her about the Loma Linda Lopers, a Road Runners Club of America. Soon, she was hooked.
Yet, she still laughed when they asked if she wanted to train for the marathon. After all, she had always been a sprinter. The most she had ever run was 2 miles.
Within two to three months of joining the Lopers, Mitchell could already run 10 miles straight. It was then when she realized that even she could run a marathon. Her enthusiasm rubbed off on her husband. He joined the running club, too.
A few months after she started running, Mitchell ran the San Diego Rock 'N' Roll marathon in six and a half hours. But she wanted to get in better shape. So she started exercising with a personal trainer who is also a member of Lopers, Karla Adams of Riverside.
"I think of her very highly," said Adams about Mitchell. "She has achieved everything she has set out to do."
According to Adams, Mitchell fit into the average category of fitness when she first came to Adams. But now she is definitely not the average body type. Since 2003, Mitchell lost 40 pounds and currently maintains about 12 percent body fat. (For before and after photos of Mitchell visit www.karlaadams.com.)
"She is the perfect example how you can change your body type through diet and exercise," said Adams, who specializes in lifestyle and running programs.
As if Mitchell's accomplishments weren't enough, she added another-body building. She started the sport seriously about a year ago and will compete in her first body building figure competition on June 23 in Pasadena.
"I think it embarrasses my son to see me in a bikini," laughed Mitchell, who keeps her body building feminine.
Two years ago, her son, Tom, gave her the Superman necklace. On the back it reads, "If you can dream it, you can do it."
"I always think of that," said Mitchell.
This past January, Mitchell was published in Iron Man magazine next to her body building hero-Rachel McLish, the first Ms. Olympia.
"It was an incredible high to have a picture of me next to my idol," shared Mitchell, who has admired McLish for the past 25 years.
Since the day she joined Lopers, she's raced in 14 marathons with a personal record around four hours and has been a featured fitness model in Oxygen, Max Muscle, and Iron Man magazines.
Behind her necklace, Mitchell is truly a woman of steel.
(c) 2007 The Sun. All rights reserved. Reproduced with the permission of Media NewsGroup, Inc. by NewsBank, Inc.