Ross Fisher
Sendai Half Marathon by 2005
July 10, 2005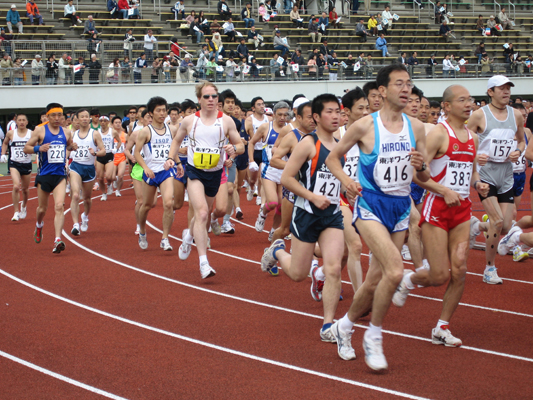 As part of the annual celebration of the Sister City relationship between Riverside and Sendai Japan, I had the great honor of being invited to participate in the Sendai International Half Marathon Race along with fellow Loper and personal trainer Karla Adams, as we represented the male and female participants respectively, from Riverside.  Sendai's other Sister City teams in attendance included Dallas, Texas; Rennes, France; Minsk, Belarus; Changchun, China; and Kwangju, Korea. The pre-race events included a ceremonial ringing of the Mission Bell donated by Riverside which stands in front of Sendai's City Hall, a pre-race conference at City Hall and an elaborate opening ceremony the day before the race. I also attended a course tour the day prior to the race.
The weather in Northeast Japan in July is very humid as this is their rainy season. The course is a point-to-point design with four crossings of the Hirose River as you wind your way from a track start at Miyaginohara General Athletic until you arrive in front of Sendai City Hall in the heart of Downtown Sendai. Two elite female runners were among the invited guests: Tegla Loroupe, last year's women's champion and two-time New York City Marathon winner, and Margaret Okayo, winner of New York City, Boston and London Marathon races in the past 5 years; both women are from Kenya. Several invited "domestic" runners compete for Japanese Corporations at events throughout Japan. The event was covered live by Tohoku Television Network in Northeast Japan.
The women's race began at 10:05 AM followed by the men's start at 10:10 AM. A shorter wheelchair race started at 10:28 AM. At start time the temperature was 69 F with 95% humidity and a strong breeze. After the starting gun we ran about 3/4 of a lap on the track before exiting the stadium onto Sendai's streets. Timing was done by chips, which were curiously placed behind our race numbers (both front and back). Being an invited runner, I was honestly embarrassed by the low number of 11 I was given (several orders of magnitude lower than my expected place). The start was very exciting, and my usual fear of being trampled to death caused me to start too fast. I really felt great at the 10 K mark, being about 1 minute ahead of schedule, but this was short-lived, and when the 15 K mark approached I was seriously considering walking for a while. I'm grateful that I decided against walking and was able to pull myself to a finish in 1:30:23. Sendai doesn't close it's streets for longer than necessary, so the course has time-limit "check points" where runners arriving after the cutoff time are picked up by a bus and not allowed to finish.
The male champion was Samuel Wanjiru, a Kenyan native employed by Toyoto Motor Company in Japan. His outstanding time of 59:43 is the fastest half-marathon time ever recorded on the continent of Asia. The female champion was, once again, Tegla Loroupe in a time of 1:12:50.
After the race there was an equally elaborate awards ceremony/closing ceremony, and this was followed on the next day by a farewell tea party. The enormous hospitality given to us and the other Sister City participants was truly heartwarming. Coincidently, the Sendai International Half-Marathon Organization chose Loper-pink as their theme color this year!
Ross Fisher